KCL is now fully able to support your research activities by offering analysis of carbohydrates, lignin and extractives. Our newest analysis equipment for analysis of carbohydrates and polysaccharides, the HPAE-PAD, is installed, calibrated and verified against reference material.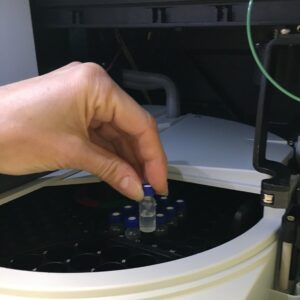 Beyond carbohydrates analysis, we can analyze lignin content (Klason and acid-soluble) and extractives content from a large variety of biomaterials like wood, pulp, non-woods and other lignocellulosic materials.
We provide analysis of recovery samples, a large variety of titrimetric and spectrophotometric methods such as lignin content as well as a variety of different methods for soap analysis. Moreover, we also measure carbohydrates, lignin and polysaccharides from black liquor samples. The methods used at KCL are suitable for bleaching effluents or process waters as well.
We are proud to note and highlight that most of the methods were originally developed in-house by KCL.
Our long-term partner Kymen Ympäristölaboratorio Ltd further complements the analyses by offering additional methods related to recovery samples, e.g. analysis of elements. Together we can now provide a complete and comprehensive package of analysis for recovery samples.
Contact Kaarina Fagerholm to discuss analysis of your biomaterials